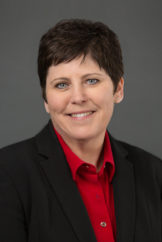 Contact
Address: 50 W. Liberty Street, Suite 700
Reno , NV 89501
Phone: (775) 852-3900
vCard: Download
Practice Areas
---
Practice Highlights:
A native Nevadan, Deonne Contine focuses her practice on administrative law, regulatory matters, cannabis issues, state and local taxation (SALT) and related litigation.
Deonne joined the firm after leaving her cabinet post in the administration of Governor Sandoval in February of 2018, where she had served as Executive Director of the Nevada Department of Taxation since  November 2014.  Before her appointment, Deonne served as a deputy at the Department for two years.  Prior to her service with Taxation, Deonne was a deputy in the Nevada Attorney General's office where she served as legal counsel to the Public Employee's Benefits program, boards and commissions related to real estate regulation, the Department of Business and Industry and, beginning in 2008, the Department of Taxation.  In this role, Deonne counseled her board clients on Open Meeting and Ethics law and represented her agency clients before administrative bodies and in Nevada State courts.  During her tenure at the Attorney General's office, she won three cases before the Nevada Supreme Court in which District Court decisions issued against her clients were overturned.
After graduating from law school, Deonne served as the Judicial Law Clerk to the Honorable Valerie Adair  in Eighth Judicial District Court in Las Vegas, Nevada from July 2005 to August 2006.
---
Community:
In 2014, Deonne was elected to the Carson City School Board where she served until her family moved to Reno in 2016.  She has also served as the parent representative on the Gifted and Talented Advisory Council for the Washoe County School District.
Deonne served as after school enrichment course coordinator for her son's elementary school for two years where she planned courses, recruited instructors and coordinated class placement.  She also wrote the grant application and was awarded a neighborhood partnership grant to help fund the courses.  She has also volunteered for the Wild Horse Children's Theater where she worked backstage in numerous productions and assisted in other events to support the company.
---
Accomplishments:
During her time as Executive Director at the Nevada Department of Taxation, Deonne led the implementation of the state's new Commerce Tax on business gross revenue which was enacted by the Nevada Legislature in 2015.  She was also responsible for implementing Ballot Question 2 approved by the voters in 2016 which legalized adult-use of marijuana.  The initiative requires the Department of Taxation to license and regulate the state's marijuana industry.  Under her leadership, the Department has been nationally recognized for the smooth implementation  of its adult-use marijuana program that allowed for licensing and legal sales to begin on July 1, 2017 which was six months earlier than required by the initiative petition.  Nevada's implementation model has  been called the very best example of a well-regulated market.
Deonne is a member of the Nevada State Bar Tax Law Section and during her time in state service was a member of the Nevada State Bar Public Law Section.
Deonne's reported cases are:
Department of Taxation v. Chrysler Group LLC, 300 P.3d 713 (Nev. 2013)
Department of Taxation v. American Home Shield, 254 P.3d 601 (Nev. 2011)
Public Employees Benefits Program v. Las Vegas Metropolitan Police Department, 124 Nev. 138 (2008)
---
Education:
J.D. University of Nevada, Las Vegas, Boyd School of Law, 2005
B.A. University of California, Berkeley, 1999
---
Bar Admission:
Nevada 2006