posted on March 31, 2023
LAS VEGAS – Kaempfer Crowell is proud of all of it's female attorneys and lobbyists who contribute to the firm's culture in such a positive way.  They are so dedicated and effective in representing the firm's clients.  In honor of Women's History Month, the firm recognizes and thanks each of you for all you do to make a difference in the many lives you touch personally and professionally.
Top row:  Stephanie Allen, Lyssa Anderson, Brittany Bishop, Shelly Capurro.  Second row: Elva Castaneda,  Sihomara Graves, Lexa Green, Maddie Gugino.  Third row: Jennifer Lazovich, Brittney Lehtinen, Ellsie Lucero, Briana Martinez.  Fourth row: Lesley Miller, Elisabeth Olson, Misha Ray, Rory Robinson.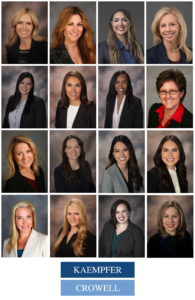 With offices in Las Vegas, Reno and Carson City, Kaempfer Crowell is recognized as one of Nevada's top law firms for Government Relations, Land Use & Zoning, Litigation, Gaming, Energy & Natural Resources, Real Estate, Bankruptcy, Telecommunications, and Labor & Employment. The firm has more than 30 practicing attorneys, the majority of whom are native and long-term Nevadans. Kaempfer Crowell's lawyers counsel top corporations, business owners and individuals. The firm's attorneys are routinely rated among The Best Lawyers in America© and Chambers USA.