posted on September 25, 2023
Kaempfer Crowell, a distinguished leader in the legal industry, takes immense pride in celebrating National Hispanic Heritage Month. As we commemorate the rich and diverse cultural heritage of Hispanic communities, we want to extend our sincere appreciation to our esteemed Hispanic attorneys, whose exceptional dedication and effectiveness have left an indelible mark on our firm.
In the legal profession, our Hispanic attorneys have consistently displayed unwavering commitment and skill in representing our clients with the highest levels of professionalism and expertise. Their contributions have significantly enriched our firm's culture and have played a pivotal role in advancing our mission of providing exemplary legal services to our clients.
As we reflect on the invaluable contributions of Hispanic communities to our nation's social, cultural, and economic fabric, we stand proud of the diversity and inclusivity that thrive within our firm. We remain committed to fostering an environment where every individual, regardless of their background, can flourish and make a meaningful difference.
During this National Hispanic Heritage Month, we extend our heartfelt gratitude and recognition to each of our Hispanic attorneys: Elva Castañeda, Sihomara Graves, Ellsie Lucero, and Briana Martinez (pictured left to right). Your remarkable efforts have not only elevated our professional endeavors but have also touched the lives of countless individuals and organizations you serve.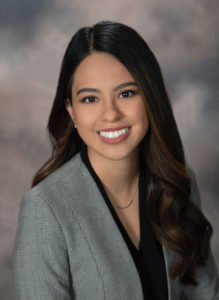 About Kaempfer Crowell
Kaempfer Crowell is a leading law firm known for its commitment to excellence in legal services and its unwavering dedication to diversity and inclusion. With a distinguished team of attorneys, the firm provides a comprehensive range of legal solutions to clients across various industries.