posted on September 30, 2019
KAEMPFER CROWELL MAKES LILY'S WISH COME TRUE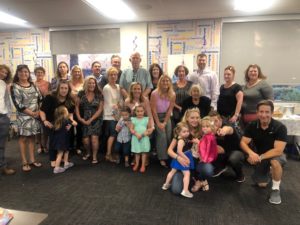 On September 9, 2019, Kaempfer Crowell had the privilege of working with the Make-A-Wish Foundation of Southern Nevada by granting a wish for a little girl named Lily. Lily is 3 years old and has acute lymphoblastic leukemia. Lily's wish was to go to Disney World in Orlando, Florida and meet Princess Anna from Frozen.  Prior to the wish reveal, attorneys and employees made numerous posters with pictures of her favorite Frozen characters letting her know that her wish was coming true.  At the wish reveal, Lily was greeted by the Kaempfer Crowell employees with posters, food, cake and a proclamation that she and her family were going to Disney World.  We were honored to make Lily's wish come true and to work with Make-A-Wish.
Make-A-Wish serves a unique and vital role in helping strengthen and empower children battling critical illnesses.  For many, the wish marks a turning point in the fight against their illnesses.  In fiscal year 2018, Make-A-Wish Southern Nevada granted 143 wishes in our community and assisted with executing another 32 wishes for children from other areas of the country who came to Las Vegas to have their wishes granted. That's 175 wishes in Southern Nevada alone – one wish almost every other day!
With offices in Las Vegas, Reno and Carson City, Kaempfer Crowell is recognized as one of Nevada's top law firms for Government Relations, Land Use & Zoning, Litigation, Gaming, Energy & Natural Resources, Real Estate, Bankruptcy, Telecommunications, and Labor & Employment. The firm has more than 30 practicing attorneys, the majority of whom are native and long-term Nevadans. Kaempfer Crowell's lawyers counsel top corporations, business owners and individuals. The firm's attorneys are routinely rated among The Best Lawyers in America© and Chambers USA.