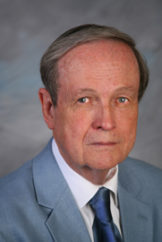 Contact
Address: 1980 Festival Plaza Dive, Suite 600
Las Vegas , NV 89135
Phone: (702) 792-7000
vCard: Download
---
Practice Highlights:
The Honorable James H. Bilbray served Nevada as a United States Congressman and a state Senator. James was an Of Counsel attorney with the firm, his primary area of practice focusing on government affairs and administrative and regulatory law. He served as a United States Congressman representing Nevada's first Congressional district for eight years.
---
Community:
A native Nevadan, Jim helped clients navigate through local, state and federal issues and provided expert counsel on governmental affairs issues. He served as President of  the UNLV student body, and was the founder and first president of the UNLV Alumni Association.  He was elected University of Nevada system Regent where he served from 1968 to 1972.  He served in 1990 to 1992 as a member of the United States Air Force Board of Visitors, and from 1995 to 1999 as a member of the United States Military Academy Board of Visitors.  Over his long professional career, Jim represented the City of Las Vegas, Clark County, the Las Vegas Convention and Visitors Authority and the University of Nevada Las Vegas.
Jim served as Vice Chairman on the U.S. Postal Board of Governors, which makes decisions concerning the operation of the U.S. Postal Service, including expenditures and setting postal policies.
Jim was also one of nine members appointed to the 2005 Defense Base Closure and Realignment Commission (BRAC). The BRAC Commission was an independent entity that submitted its findings and recommendations to President George W. Bush regarding the list of bases and military installations which the Department of Defense had recommended closing and/or realigning.
Prior to being elected to the United States House of Representatives in 1987, Jim served as Nevada State Senator, where he chaired the powerful Taxation Committee and was a member of the Judiciary Committee.
During his four terms in the United States Congress, he was Chairman of the Small Business Sub-Committee on Taxation, Tourism and Procurement, and was a member of the Foreign Affairs, Armed Services and Intelligence Committees.
---
Accomplishments:
Jim served as director of the Lady Luck Gaming Corporation and on the advisory board of SRD Corporation, a corporation specializing in casino security. He had been licensed to practice before the Nevada Gaming Board and Commission since 1970. On December 8, 2001, he received an honorary doctorate of laws from the University of Nevada Las Vegas for his extensive contributions to the state and U.S. government.
Vegas Inc. Top Lawyer in Legislative Affairs – 2013
Martindale Hubbell rating: AV
Desert Companion Magazine – 2011 and 2014 Top Lawyers in Legislative Affairs
---
Education:
J.D. Washington College of Law, 1964
B.A. American University, Washington, D.C., 1962
---
Bar Admission:
Nevada 1965