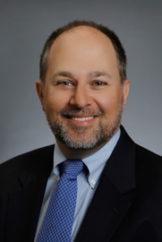 Contact
Address: 50 West Liberty Street, Suite 700
Reno , NV 89501
Phone: (775) 398-4741
vCard: Download
Practice Areas
---
Practice Highlights:
Lou focuses his practice on commercial disputes, including bankruptcy, litigation, creditor's rights and tax disputes. He advises banks, landlords, investors, vendors and others owed money on the best options to protect their assets, recover collateral and get paid. He works in a range of contexts including workouts, litigation, receiverships, bankruptcy reorganizations and liquidations.
Lou regularly appears in Nevada's state and federal district, bankruptcy and appellate courts, as well as other courts around the country. Lou has advised creditors, creditor committees, buyers, trustees, and equity throughout the life of bankruptcies, receiverships, and restructuring procedures. Lou is often involved before a bankruptcy is filed, counseling clients on accounts receivable, collection efforts, collateral, and guarantor obligations. He has successful petitioned for an involuntary bankruptcy. Once a bankruptcy is on file, he routinely has litigated disputes to obtain stay relief to proceed with foreclosure, acquired claims to improve voting rights and economic return, and defeated plans of reorganization detrimental to his client's interests. Lou also believes in using court proceedings as leverage to reach the best possible compromise, resulting in favorable loan renegotiations and asset purchases. He also is regularly involved in receivership proceedings before, during and after bankruptcy to make sure a neutral party manages the debtor's assets and prevents inappropriate liquidations.
---
Community:
Lou has been an active volunteer with his children's schools, donating time and money to Sage Ridge School, Hunsberger Elementary, Pine Middle School, and Mountain View Montessori over the past decade. At Mountain View, he led an annual volunteer camping trip to the Black Rock Desert to do field projects in conjunction with National Public Lands Day. In 2010, Friends of Nevada Wilderness recognized his efforts by naming the school its partner group of the year. Lou also is a regular volunteer with Friends of Nevada Wilderness and Lahontan Audubon, repeatedly participating in service projects, school visits, and field trips. A train buff, he also has served as a trustee for the Northern Nevada Railway Foundation, promoting efforts to restore the historic Virginia & Truckee Railroad between Virginia City and Carson City.
---
Accomplishments:
Best Lawyers in America® for litigation-bankruptcy in 2013, 2014, 2015, 2016, 2017, 2018, 2019, 2020 and 2021
Super Lawyer Mountain States  for business litigation/bankruptcy in 2013, 2014, 2015, 2016, 2017, 2018, 2019 and 2020
Legal Elite by Nevada Business Magazine for bankruptcy and commercial litigation in 2015, 2016, 2017 and 2020.
Cover of Legal Elite by Nevada Business Magazine for 2016.
Past president of the Northern Nevada Bankruptcy Bar Association, and he has co-authored and presented its year in review program since 2007.
Member, National Conference of Bankruptcy Judges' Next Generation Committee, 2016, 2017, 2018, 2019 and 2020.
Member, Advisory Board, American Bankruptcy Institute's Southwest Conference, 2016, 2017, 2018, 2019 and 2020; Fundraising Chair, 2019 and 2020.
Co-Chair, Advisory Board, American Bankruptcy Institute's Western Consumer Conference, 2013 and 2014.
Spoken at ABI conferences and contributed to its publications.
---
Education:
J.D. University of Oregon, 2004
B.A.J. Indiana University, 2000
Wabash College
---
Bar Admission:
Nevada 2004
---
Court Admission:
Nevada Supreme Court, 2004
U.S. District Court, District of Nevada, 2005
U.S. Bankruptcy Court, District of Nevada, 2005
Ninth Circuit U.S. Bankruptcy Appellate Panel, 2011
Ninth Circuit U.S. Court of Appeals, 2012