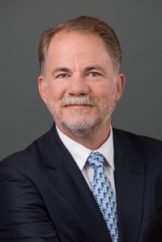 Contact
Address: 50 West Liberty Street, Suite 700
Reno , NV 89501
Phone: (775) 852-3900
vCard: Download
Practice Areas
---
Practice Highlights:
Michael manages the firm's legislative affairs practice, which he joined when Hillerby & Associates became a part of Kaempfer Crowell in 2012.
Michael has been lobbying in Nevada since 1991, and has extensive experience with the Nevada Legislature, a variety of regulatory boards and commissions, as well as county and local governments. In addition to lobbying, his expertise includes strategic guidance, public affairs and procurement processes. He has represented clients in the healthcare, insurance, technology, manufacturing, design and real estate development industries, telecommunications, energy and automotive manufacturing sectors, among others. He has also represented a number of professions and state professional licensing boards.
He served as Chief of Staff to former Nevada Governor Kenny Guinn. Michael was responsible for the day to day management of the Governor's Office, oversight of the Cabinet and the various agencies of state government, as well as advising the Governor on policy and strategy. His duties included lobbying on behalf of the Governor's budget and agency policies, and being the primary liaison between the Governor and the Nevada Legislature.
Michael also regularly worked with outside constituent groups, other Governor's offices, federal agencies, the White House and various national associations. He served on or chaired a variety of state committees for the Governor, as well as working on special projects in areas from Homeland Security to Information Technology.
Michael also served as Deputy Chief of Staff, where his work in health care policy focused, in part, on Governor Guinn's Senior Rx initiative, the first-of-its-kind state program in the country to provide a low-income senior prescription drug subsidy. He also staffed Governor Guinn's work with the Education Commission of the States, and his Chairman's initiative "Leading for Literacy."
Michael has advised political leaders and clients on media relations and crisis management. He deals regularly with statewide and local journalists, and helps prepare clients for appearances and interviews.
---
Community:
Michael is a member of the board and Vice President of The Advocacy Group, the premier municipal, state, federal and international government and public affairs organization in the world.  He also serves on the Reno Phil Board of Trustees, is a Past-Chair of the Nevada Museum of Art, and on the Board of Directors of the Friends of the Nevada Governor's Mansion. He has coached his children in baseball and soccer, and was a Boy Scout leader for his son.
---
Accomplishments:
He has guest-lectured at the University of Nevada Reno, and been a panelist/speaker for the American Planning Association, National Conference of State Legislatures, Senate Presidents' Forum, the Policy Exchange Foundation, American Legislative Exchange Council, Leadership Carson City, the Las Vegas Chamber of Commerce, Nevada Arts Council and other groups. He testified before Congress on senior prescription drug issues and Governor Guinn's Senior Rx Program.
---
Education:
B.S., University of Nevada, 1988