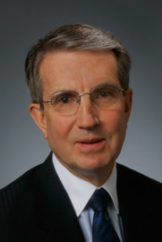 Contact
Address: 510 W. Fourth Street
Carson City , NV 89703
Phone: (775) 884-8300
vCard: Download
---
Practice Highlights:
Robert L. Crowell was an exemplary person, colleague, and partner of the Firm.  He was a true statesman and mentor.  During his long and distinguished career, Bob instilled honesty, integrity, and professionalism in the lawyers at the Firm and inspired them to do their best for their clients and the community.
As an integral member of the Government Affairs team, his expertise included legislative affairs, administrative/regulatory matters, public utilities, telecommunication, transportation, water law, government licensing and compliance, strategic planning, ethics compliance programs, and election law.
Bob testified before numerous agencies and legislative committees in the fields of insurance, taxation, public utility, and transportation law. One of Nevada's premier political analysts, Jon Ralston, has commented that "Carson City lawyer [Robert Crowell] is one of the [legislative] building's best-liked and most respected advocates; clients will put him in major fights."  The Ralston Report, February 2001. During the 2007 Legislative Session, Bob was inducted into the Lobbyist's Hall of Fame by his peers.  According to Ralston, "Crowell is seen as the consummate steady hand" and one who is "trustworthy, ethical and cares about crafting the best public policy while achieving his clients' objectives."  The Ralston Report, June 2007.
Bob was a recipient of the State Bar of Nevada Presidential Award recognizing a member whose conduct, honesty, and integrity represents the highest standard of the legal profession. He was serving his third term as Mayor of Carson City at the time of his passing.
Bob was admitted to practice in Nevada, the United States District Court for the Districts of Nevada and Arizona, the Ninth Circuit Court of Appeals, United States Court of Claims, and the Supreme Court of the United States.  He was consistently recognized in Best Lawyers in the fields of Energy Law and Government Relations. He also achieved and maintained an AV rating by Martindale Hubbell, an international peer-review rating system for the legal profession.
---
Community:
Bob served as Mayor of Carson City, having been elected in 2008 and reelected in 2012 and 2016. Prior to being elected Mayor, he served eleven years as an elected trustee of the Carson City School Board and twice served as its president. He also served as a director of the Northern Nevada Development Authority and Chairman of the Board of the Carson City Chamber of Commerce. He was a Past President of the Rotary Club of Carson City, and a board member of the Capital City Circles Initiative, an organization of business and religious leaders seeking to address poverty in Carson City.
Bob was a retired Navy Captain, Vietnam Veteran and life member of the Vietnam Veterans of America as well as a member of that organization's local Chapter 388. He was also a member of the Sons of American Revolution, American Legion, Veterans of Foreign Wars and the Carson City Council of the Navy League where he served as charter president.
---
Accomplishments:
Bob was past president of the State Bar of Nevada and served on its Board of Governors for seven years. He chaired the Nevada Mandatory Continuing Legal Education Board, which oversees Nevada's continuing legal education program under the direction of the Supreme Court of Nevada and was elected to the Nevada Legal Services Board of Directors. He served as a member of the Colorado River Commission (a gubernatorial appointment) and held the position of Chairman of that agency. The Colorado River Commission is responsible for overseeing Nevada's allocation of water and power from the Colorado River and was instrumental in the development of the town of Laughlin, Nevada. Bob was a private pilot and proficient in high-performance single engine airplanes.
Best Lawyers in America® in Energy Law and Government Relations Law – 2009, 2010, 2011, 2012, 2013, 2014, 2015, 2016, 2017, 2018, 2019 and 2021
Best Lawyers in America® - 2009, 2010, 2011, 2012, 2013, 2014, 2015 and 2016
Martindale Hubbell rating: AV
---
Education:
J.D. University of California, Hastings College of the Law, 1973
A.B. Stanford University (Economics), 1967
---
Bar Admission:
Nevada 1973