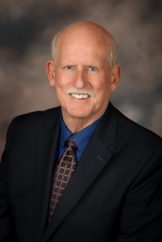 Contact
Address: 1980 Festival Plaza Drive, Suite 650
Las Vegas , Nevada 89135
Phone: (702) 792-7000
vCard: Download
---
Practice Highlights:
Chris Kaempfer is a senior partner of the firm and the founder of the firm's well-recognized and distinguished Land Use and Governmental Relations Department. Chris has been practicing land use law in Nevada for over 40 years and has personally argued precedent setting land use cases in both state and federal court. The firm is recognized as Nevada's top law firm for land use and zoning law in The Best Lawyers in America®.
Over the years, Chris' practice has been devoted primarily to the areas of land use and zoning law, administrative law, governmental affairs, sports law, and real estate and construction law.
Since 1985, Chris has been actively involved with Las Vegas' AAA baseball team (the Las Vegas Aviators and its predecessors, the Las Vegas 51s and the Las Vegas Stars). During these years, Chris has served the team in various capacities, specifically as Legal Counsel, as a member of the Board of Directors and/or as a part owner. He was also part owner and General Counsel to the Las Vegas Thunder Hockey Club during its years of operation in Las Vegas. Chris has negotiated on behalf of the AAA baseball team numerous contracts with various public and private entities, and has been actively involved in the myriad of issues attending the operation of minor league franchises. He has achieved an AV rating, the highest ranking given by Martindale Hubbell, an international peer-review rating system for the legal profession.
---
Community:
Chris coached softball for The Meadows High School Girls Softball Team, where as head coach in 2003, his team won the 2A State Championship. He has also received state wide recognition as Coach of the Year in the 2A division. To honor of his many years of coaching at The Meadows, the softball field bears his name. Additionally, he is on the Board of Directors for the National Museum of Organized Crime and Law Enforcement ("Mob Museum"), is an Honorary J.A.G. Commander for the Nellis Air Force Base Support Team, and is a member of the Board of Trustees of the Tuscany Research Institute, a non-profit organization dedicated to promoting the conservation of the environment and its natural resources. Chris also serves as a member of the Board of Directors of the UNLV Rebel Baseball Club. He is a benefactor member of the National Baseball Hall of Fame, a member of the Society for American Baseball Research (SABR), a lifetime member of the Major League Baseball Players' Alumni Association (MLBPAA) and most proudly serves Major League Baseball's "Baseball Assistance Team" (B.A.T.), an organization whose purpose is to aid former members of the baseball family who have severe financial and/or medical needs.
---
Accomplishments:
While at the McGeorge School of Law, he received several awards including the "Book" in contracts and criminal law and was a member of the Moot Court Honors Board.
Chris was named one of the top 25 lawyers in the State of Nevada in the July 2007 edition of Nevada Super Lawyer, a special supplement of Law & Politics and the publishers of Las Vegas Life. He received the most votes in Nevada Business Magazine's Legal Elite category and in 2009 was rated as number one Legal Elite.
Recognized as one of the Top 100 Lawyers in MyVegas Magazine for 2019
Best Lawyers in America® – 2008, 2009, 2010, 2011, 2012, 2013, 2014, 2015, 2016, 2017, 2018, 2019, 2020, 2021, 2022 and 2023
Best Lawyers in America® in Government Relations Law, Land Use & Zoning Law, Real Estate Law – 2008, 2009, 2010, 2011, 2012, 2013, 2014, 2015, 2016, 2017, 2018, 2019, 2020, 2021, 2022 and 2023
Best Lawyers in America® Las Vegas Land Use & Zoning Lawyer of the Year – 2011, 2013 and 2018
Best Lawyers in America® Las Vegas Government Relations Practice Lawyer of the Year – 2012, 2015, 2017 and 2023
Chambers USA - Leaders in their field in Real Estate and Zoning/Land Use – 2018
Chambers USA - America's Leading Business Lawyers for Business - Zoning & Land Use Law – 2006, 2007, 2008, 2009, 2010, 2011, 2012, 2013, 2014, 2015 and 2017
Desert Companion Magazine Top Lawyers for Land Use/Zoning/Administrative – 2011 and 2014
Vegas Inc. Magazine Southern Nevada's Top Lawyers in Construction and Land Use/Administrative – 2012 and 2013
Mountain States Super Lawyer in Land Use/Zoning/Administrative Law – 2007, 2008, 2009, 2010, 2011, 2012, 2013, 2014, 2015, 2016 and 2017
Mountain States Super Lawyer in Land Use/Zoning – 2017
The Nevada Business Magazine – 2009, 2010, 2011, 2012, 2013, 2014 and 2015 Nevada Legal Elite
Martindale Hubbell – 2013 Top Rated Lawyer in Land Use and Zoning
Named by Las Vegas Business Press in 2011 as one of the 20 people in Las Vegas with Clout
Martindale Hubbell Rating: AV
---
Education:
J.D. University of the Pacific, McGeorge School of Law, 1975
B.A. University of Nevada, Las Vegas, 1971
---
Bar Admission:
California 1975
Nevada 1976